Back To Blog
The Oracle Utilities Data Model: Staging Common Concepts for Your Data
The Oracle Utilities Data Model (Oracle UDM or OUDM) is catching the attention of power utilities, and for good reason. OUDM is built on a data model that takes the fundamental parts of the IEC Common Information Model (CIM) and supplements them with elements from the TM Forum Information Framework (SID). It acts as a representation of a database, and is created by using a semantic model to merge the best of two industry models into a common structure.
As utilities explore the Oracle Utilities Data Model, they have discovered that OUDM consists of two layers: Foundation and Data Warehouse. The Foundation layer is a normalized set of data tables which consist of the major information objects a utility typically uses. The term "information object" is used here instead of data, as an information object can be created from data gained from multiple sources based on data quality and data stewardship rules. The Data Warehouse layer is a star schema reporting layer that supports reporting by providing a number of business intelligence (BI) tools in addition to Oracle's BIEE platform. Ultimately, like any good reporting platform, OUDM will need to receive data from other systems to deliver comprehensive analytics support.
Architectural Patterns
The first architectural pattern is to pull the data directly from transactional systems, such as a customer information system or a meter data management system, into the OUDM Foundation layer. This pattern is represented by the reference architecture in Figure 1.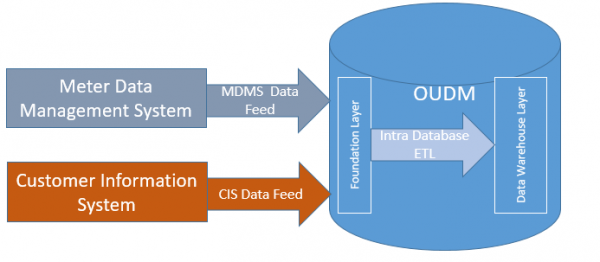 The second architectural pattern represents data sources feeding into a staging layer which will then feed the Foundation layer, as shown in Figure 2.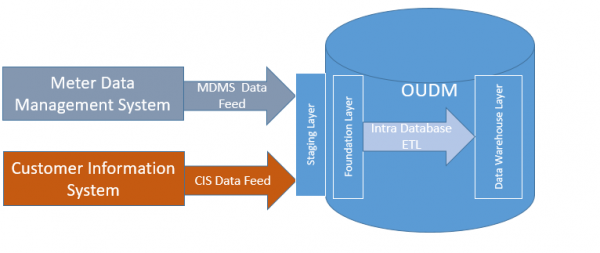 Architectural and system design considerations will be taken into account when your organization selects the appropriate reference architecture for your needs. Xtensible Solutions has extensive experience in the design of both approaches, and can assist you in determining which one fits your needs for OUDM implementation.
Would you like to schedule a consultation on your OUDM implementation? Speak to a member of the Xtensible team.
Back To Blog