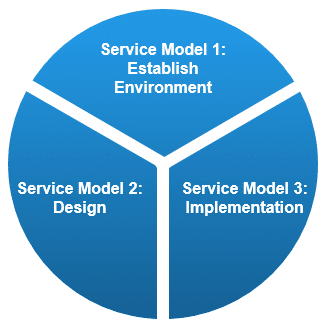 Through over a decade of consulting and systems integration services to utilities worldwide using CIM standards and semantic-driven approach as the foundation, Xtensible Solutions has matured an approach that will guarantee the success of its implementation over the long term.
It is a multi-faceted and multi-tiered approach that can be tailored to each utility's specific requirements and organizational structure.
This role helps a utility establish and deliver a consistent enterprise approach for integration and data management using applicable standards and best practices. Throughout our service engagements involving system integration or fulfilling the system integrator role, this is the approach we keep at the forefront.
Value of Our TADA Approach
More and more companies are being valued not just on tangible assets and revenue, but also on intangible assets, which include IT infrastructure, architecture, application functionality, process management and business agility. A loosely coupled, componentized architecture is a key building block for achieving this. TADA services will enable architecturally coherent components to be implemented at different times by different projects.
Results:
Achieves corporate strategic objectives without complicating projects
Reduces the overall risks of projects
Increases the maintainability and re-usability of project deliverables
Improves the flexibility and scalability of IT integration and data management to support future business needs.
Service Module 1: Establish Environment
Establish the standards-based, semantic driven enterprise integration and data management methodology, reference architecture, toolsets, governance and quality assurance capabilities.
Goals and Strategy
Governance
Infrastructure / Environment
Service Module 2: Design
Perform cross-project technical architecture & design activities and ensure consistent approach is applied across projects.
Service Portfolio Management
Build and Maintain the Enterprise Semantic Model (ESM)
Architecture, Analysis & Design Support
Service Module 3: Implementation
Engage with projects to perform technical analysis, design & assurance activities and be responsible for the related deliverables.
Technical Delivery Management

Requirements, Preliminary Design, Detailed Design, ESM, Integration Development, Testing
Reap the Benefits:
Lower total cost of ownership
Faster implementation with 25-50% improvement
Prevention of vendor and technology lock-in
Agile solutions facilitate (vs. hinder) business change as the market and regulatory environment evolve
True enterprise-wide business intelligence & reporting