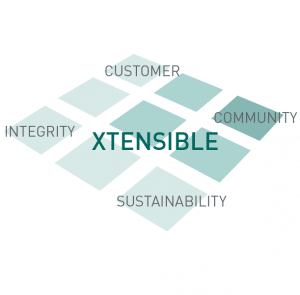 Xtensible Solutions has become a leading provider of semantic-based integration and information management solutions to the utility industry worldwide.
Within this solution space, Xtensible has brought together the best practices of business, standards and enterprise information management (EIM) and applies them to the unique business challenges of electric utilities, using Xtensible's Model Driven Information, Integration, and Intelligence (MD3i™) Framework.
Over the years we have expanded our capabilities through our solutions and services to address the needs of utility companies around the smart grid, analytics, business intelligence and the increasing demand & complexity around systems integration.
---
Mission
To deliver and empower our clients with sustainable end-to-end solutions in a repeatable and cost effective manner.
Vision
To be the preferred partner of utility companies.
Market Focus
Utility data and system integration, analytics, enterprise information management and Smart Grid enabler.
Core Values
Deliver value to our customers through innovative, cost-effective integration solutions that provide long-term sustainability
Maintain a high level of integrity

by treating customers, associates, partners and vendors with fairness and honesty

Respect our communities

by giving back to our greatest asset: the people that make up the communities that we live and work in
Our Strategic Framework
To ensure our services and products deliver value for you we established a strategic framework for how we engage with you.
Helping you do more with less: We empower you to deliver business solutions in a faster, cost-effective and repeatable manner.
Reducing your risk: We prioritize reducing your risks as part of our project deliveries.
Encouraging financially sound decisions: We provide guidance and direction for you to make sound investment decisions for both short-term and long-term benefits.
Applying standards: We leverage standards and drive their development for the benefit of all.
Helping you avoid vendor lock-in: We work with you to architect solutions preventing vendor and technology lock-in.
Being your trusted advisor: We are part of your team ensuring you get the most value from your chosen technologies, system integrations and approaches to data management.