Back To Blog
Data Model and Ingestion of Doble Asset Test Data
The 2022 International Conference of Doble Clients took place March 6 – 11 in Boston. Xtensible had the honor of presenting during the Virtual Asset & Maintenance Management (AMM) Committee Meeting prior to the conference and also participated during the conference in Boston. The Xtensible contribution focused on Leveraging Utility Test Data & Scores Across Business Functions with a standards-based approach utilizing the Xtensible Asset Flex Model.
You have access to critical database APIs (Application Programming Interfaces). You need access to test data and scores across business functions. Your data is in multiple locations, needed by users for decisions making. You don't want to re-do or re-invent work, and you desire to modernize and optimize. Then a pre-configured standards-based data repository with integration points to other systems is for you. Do you feel lost in an Escher image right now? Bottom-up or top-down approach? Keep reading to see how to jump start with the Xtensible Asset Flex Module.
Bottom-Up
Starting simple often leads to great success. Let us know where your utility test data and scores are located and where you want them to be. We will profile the data, generate ingestion services based on available APIs as needed, deploy the Xtensible Asset Flex Model on your selected technology platform and finally populate the system, with existing data and ensure that new data will continue to flow. And error checking is included. And replacing equipment is supported by CIM, therefore included as well. We can also help you with updates to processes and training to ensure success in the long run. We can deploy one asset type and leave the rest to you or complete the solution for several of your asset and data types.
Top-Down
The Top-Down approach is very similar to the Bottom-Up with the difference that a much greater emphasis is spent on the data from an overall enterprise perspective. We explore with you how "Asset" fits into the bigger picture of Enterprise Information Management, looking at reference data, enterprise semantic model, mapping, linage, build automation not just for "Asset" but also for other areas such as "Meter", and "Customer" etc. But you can still start small when implementing. Simply focusing on "Asset" and associated use cases.
Xtensible Asset Flex Model
The Xtensible Asset Flex Model is based on IEC CIM 61968 to ensure interoperability between vendors. The Asset Flex Model supports the CIM "Asset" subject area, where the main topics are asset maintenance, lifecycle, health, risk, and inspection results. An asset can be understood to include all assets at the utility for transmission, distribution, generation and so on. It is augmented with Doble data types, and integration microservices, to enable fast and efficient access to asset data. Other Xtensible Flex Models are used for additional CIM subject areas such as meter, customer, power system, operations, to name a few.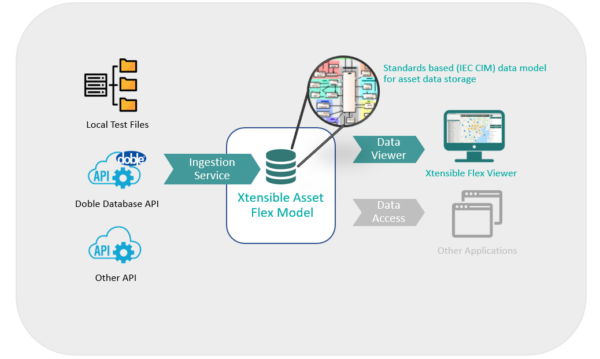 What are your goals?
In deciding which approach to take, consider asset management goals in context of supporting additional business functions. If you are focused on core asset management such as "reducing breakdown and damage" or "a comprehensive view of your assets" then you may want to start with the bottom-up approach. You will see a quick win and will be able to test the approach. On the other hand, are you looking for insights for business functions beyond core asset management, and regulatory compliance perhaps? Then a top-down approach could be better. These types of objectives generally are based on executive requests and tie into an overall business strategy. At some point, the two will need to meet. The Xtensible Asset Flex Model remains the same as it is based on standards, supporting bottom-up needs and top-down approaches. It is simply deployed for different reasons initially.

Flip the Paradigm
Stop spending time searching for and cleaning asset test data and scores. Instead combine your asset data sources from different vendors in an orderly fashion. You will save time and will be able to use it to generate value beyond simply answering immediate questions. Make data part of your process, your operations, and your decisions. That is the future.
"We all know data does not provide a benefit unless it is used by the people, incorporated into processes and integrated with your technology. Our goal is to use your time and money wisely. To help you reach your goals today with an eye towards the future."

Xtensible provides semantic-based products and consulting services for the utility industry with a global client base. We are a driving force behind the development and implementation of international open standards, such as IEC CIM. Our approach is cost-effective and repeatable, putting our clients first.
Interested in learning more about our standards-based data model for asset test data and scoring? How the data ingestion service works? How it feeds into your analytics engine? Speak to a member of the Xtensible team.
Back To Blog