Back To Blog
At T&D World Data Management was the Problem and the Opportunity
Although T&D World (as the name implies) focused on transmission and distribution issues, you couldn't miss the discussion and implication of good data management.
T&D World Conference and Exhibition, hosted by Duke Energy in Charlotte, in October, was the inaugural conference created by a board of utility industry exports, and put on by the same folks that bring you conferences such as Utility Analytics Week. As the name implies, this conference had a focus on transmission and distribution, and certainly, there were sessions reflecting a wide variety of topics such as "Critical Infrastructure at Critical Times" all the way to "Advanced Communications over Redundant Passive Optical Networks".
The Resilient Grid
Repeatedly the idea of the resilient grid was discussed. There was a focus on damage prevention, even for low probability high impact events. Subsequent system recoveries in a timely manner resulting from these events will require technology enhancements across the board, grid, and supply chain, to continue some level of normal function for customers. Grid stabilization devices and using existing microgrids to supply power where needed most was brought up.
Data Everywhere
And data was everywhere – as one understands how all the systems needed to manage the grid talk to each other. For example, hot topics such as the growing demand for EV fleet charging where mixed with more traditional topics of Geospatial Information Systems (GIS), Outage Management (OMS), and Network Model Management (NMMS), and the roles they play, all having data, data management, data quality, and data architecture at their core.
Need for grid resilience adds a level of urgency and complexity to digital transformation, to ensure the grid thrives and survives.
Although these topics and systems are near and dear to the hearts of the power engineers that use them to manage the grid, the connection of the data between the systems, to the sensors that may feed the systems, and accurately capturing changes to the grid during storm events, all revolve around the transmission and accuracy of the data that goes into these systems.
It was interesting to me as a participant, 20 years on from when I first became aware that utilities had data quality issues with their GIS – that this was still a hot topic of conversation. I think today there is a broader understanding of the fundamental data architecture issues that are at the heart of network model management – capabilities that feed other systems such as OMS and GIS – but it has been a long haul to arrive at capabilities that make these systems as reliable and as accurate as utilities need them to be.
Certainly, the EPRI led network model management interoperability event that was held in May contributes to vendor abilities to exchange data based on the utility Common Information Model (CIM). But we still see challenges as our utility colleagues attempt to breakdown data exchanges across silos, or provision data so that it can be used in a utility wide data architecture for analytical purposes.
Driving Digital Transformation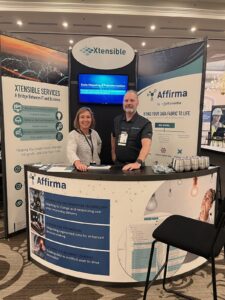 "The what, now"? We 100% get it. If you're a power engineer that relies on these systems, you may not think directly about how that data is provisioned, managed, and transformed behind your computer screen – you just want it to be timely and accurate. We saw – and heard you at this event. We were sharing how Xtensible services bridges the gap between IT and OT and how Affirma – an Xtensible solution reduces the complexities of data management and ensures that your data brings additional business value across the utility.
If you're interested in how your data quality can be improved, while also easing data integration issues across boundaries, in a way that facilitates better collaboration with your IT colleagues to bring new capabilities to your customers – Xtensible and Affirma can help.
Being able to use reference data repeatedly and maintaining the metadata associated with information as it crosses system and organizational boundaries, is a key enabler for provisioning new and better data management capabilities. If you want to learn more, you'll want to reach out!
Where to Next?
Think about your data journey, from design, to deployment and governance. What could you do if you spent less time looking for data and more time using it? We are looking forward to many more conversations with you at events hosted by Utility Analytics Institute (UAI), DistribuTech, and others. Reach out to us, at sales@xtensible.net to get more information on our services, and visit the Affirma web site at: https://affirma.xtensible.com/
Back To Blog