Back To Blog
Apart, yet together at UA (Utility Analytics) Summit this year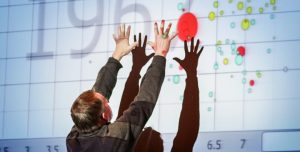 Ted Talks: Hans Rosling, in memory of a great man and the numbers he loved.
One of the many inspirational TED-Talks given, "Best Stats you have ever seen", by Hans Rosling, was shared by one of the speakers at Utility Analytics Summit in May 2021, to exemplify their analytics journey.
Xtensible, a sponsor of Utility Analytics Institute, was looking forward to Utility Analytics Summit in May of this year, as an opportunity connect and to communicate with the participants. Close to 700 people from more than 100 utilities and vendors participated in the event to support analytics initiatives through their solutions and products. The Utility Analytics Summit provided an outlet for collaborations, to either gather ideas or to share accomplishments from this past year for others to learn. Participants included large U.S. utilities, such as Duke, Exelon, and National Grid, as well as PUD's and Coop's demonstrating common demand and providing "something" for everyone.
Utility Analytics Institute is a utility-led membership organization providing support to the industry to advance the analytics profession and utility organizations of all types and maturity levels. They host two yearly events, Utility Analytics Summit in the spring and Utility Analytics Week in the fall.
Sharing by the Utilities
As always, all summit speakers had interesting and informative stories to share. Speakers shared their utility's approach to analytics adoption. It became very clear, very fast, that it is not only about technology, but how the technology supports the people and the organization. Analytics is about removing boundaries and working together, to implement your utility's vision and strategy.
PGE shared their story on adoption and organizational change, looking at measurable business value, consensus building, quick wins to show progress and in doing so pointed to Hans Rosling's talk on statistics.
We learnt about Smart Usage Alerts, a project at SRP, to alert customers about inconsistencies in usage. Using Smart Usage Alerts, a golf course manager was alerted based on their data that water usage was inconsistent and found a broken timer. Another customer was alerted of their AC unit running full blast while they were out of town.
A project at PEC detailed how they are using drones to help with pole-inspection, providing a safer environment for crews and other benefits including for image processing.
The infamous scattered data
Underpinning it all is your data. Your data, located in hundreds of systems, in thousands of tables, with certainly more than one understanding of what it is. This is not news to anybody. Especially for those who must pull the data together to answer a complex question.
Michael Covarrubias, VP of Strategy and Solutions of Xtensible, shared some thoughts on "Why we need a data model" and "How to start it" in an article entitled "How effective is your Data Model for supporting Enterprise Analytics"? for the UA Summit and during an interview. One option is to start from scratch, but your data is complex, utilities are complex, so a tremendous amount of work would be needed. A better option is to start from industry-standard models, such as the IEC Common Information Model (CIM), IEC 61968/61970/62325, which provides standard terminology for enterprise semantics. If an organization takes this route, remember you do not have to implement it all at once. Focus on your key use cases and make it our own.
Xtensible had on display a set of case study to illustrate our approach focused around:
Standards to the rescue
Consider attending the Xtensible 2-day on-line training, Aug 18 – 19, to learn more about CIM basics, uses and lessons learnt and how to start or how to continue your analytics journey though understanding your data. This year we are also conducting interactive breakout sessions. Bring your favorite item of interest to the session, discuss with our experts, and bring content back home to act upon.
See you this fall
We are looking forward to in person conversations with you in Dallas at the upcoming Utility Analytics Week, October 13-15, hosted by Oncor. We will also participate in the subsequent virtual gathering for those who have travel restrictions taking place December 8 – 9.
What 2020 taught us is the importance of being flexible when communicating, in-person and virtual gathering are here to stay. See you there!
Back To Blog