Back To Blog
Agile approach to Network Model Management Requirements
When an electric utility designs and implements a new centralized Network Model Manager (NMM), taking the wrong approach can hinder the strategic effectiveness, including reducing technical debt.
Obstacles from not having a clear direction, communication breakdowns, or multiple technical complexities, integrating a new NMM into an already complex and robust enterprise-wide system landscape can be a challenge. Poor communication and information exchanges between an organization's downstream and upstream participants can make or break any business transformation initiative. Whether it's not setting the right goals at the outset, or misalignment on process or strategy, cross-functional team disconnect can throw everything in the organization off.
Often, utilities do not have a clear direction were to begin the initiative. EPRI created the Network Model Manager Technical Market Requirements, which identifies the numerous business capabilities for an NMM. While a good starting point, the Template only provide the "what" but not the "how". It lacks instructions for how to plan and bring online the different components of the NMM. Thus, leaving a challenge of how to implement the framework into an actionable and integrated plan.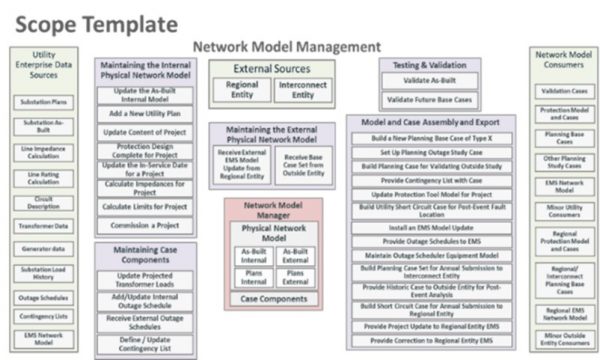 In 2020, a large, investor-owned utility hired Xtensible to analyze, design, develop, and support the implementation of a next-generation Network Model Manager (NMM). When fully deployed, the state-of-the-art NMM will provide the utility a single source of consistent data such as connectivity, topology, load, distribution, ratings, and impedance.
One of the reasons Xtensible is a leader in the industry can be seen through our work of taking EPRI's Network Model Manager Requirements Template and translating it into a set of actionable requirements for each of the business capabilities identified in the Model. This reference framework provides a requirements taxonomy and a reusable context, or a 'stencil' of sorts. It provides the right level of context to have laser-focused, narrow and in-depth dialogue regarding the integration to 'stencil' the scope of the initiative.
We created actionable requirements specific to a client's particular needs (e.g., regulator, operations, environmental, etc.). We can also augment additional requirements based on the utility's needs because of our experience and knowledge, allowing a more effective and timely delivery for design and analysis.
Using the framework as a guide, we take the client through a series of structured, repeatable, and consistent, integration-at-a-time focused workshops to scope any given release for any given project throughout the NMM's life.
The workshops: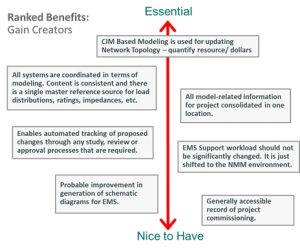 Identify the jobs affected by the specific integration, and then rank the job.
Identify and rank the business benefits.
Identify significant information objects.
Identify and map the detailed requirements in the narrow context of the jobs impacted by the integration.
Xtensible takes the information gleaned from each workshop and populates the client's Requirement Management Tool, which makes all requirements (process area, use, benefit, and contribution) across each capability into a user-friendly format. Having the information easily accessible provides the numerous teams working on the implementation project rich insight and impact analysis for past, current, and future work.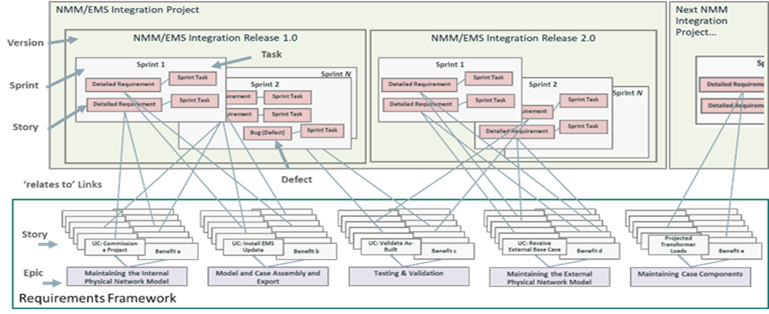 Taking this approach allows for both IT and Business Operations to see and articulate:
What is the percent of Earned Value completion of benefits, and which projects/releases were/are responsible?
Which projects, releases, use cases, information objects, and requirements are contributing most to my most essential business benefits?
When and how is/was this use case implemented? Which project/release?
When and how are/were specific use case steps or major information objects implemented?
By taking this Agile approach, Xtensible can design and implement a new Network Model Manager efficiently, effectively, and reduce technical debt.
For more information about how we can help your organization by taking a standards-based proven approach, please contact us to learn more.
Back To Blog