Doble Engineering Company has endorsed Xtensible to support with the ingestion of Doble test data, Doble oil laboratory results and Doble specific test results and for usage of the Doble Database API. Xtensible works closely with Doble, to ensure customers gain additional value from Doble test data by providing standards-based products, integration, and analytics services to accelerate access to Doble test for integration with customer 3rd-party enterprise intelligence tools.
The Doble Database is the premier data storage solution for users of Doble test equipment and Doble oil laboratory test results. The Doble Database API is a service layer provided by Doble for retrieving test data and Doble specific test results, such as FRANK™ scores, from the Doble Database. It is a connection service enabling users to create a web-service to pull data from their portion of the Doble Database in a secure and authenticated manner. Doble test data (DTAX file format) and Doble specific test results, such as FRANK™ scores, for supported apparatus types and test types are available for retrieval.
Xtensible provides the integration microservice, which pulls data from the client portion of the Doble Database and populates the Xtensible Asset Flex Module, an IEC CIM standards-based data model, augmented with Doble data types, to enable fast and efficient access to asset data across the enterprise. Other CIM subject areas such as meter, customer, network model, operations, etc. are supported.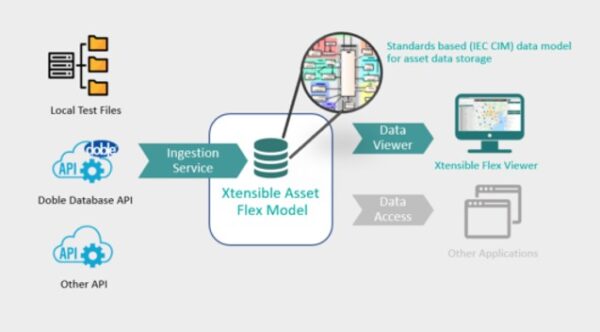 "The Xtensible Asset Flex Module is one module we built as a quick start for utilities who want to combine their disparate asset data from different test equipment and different vendors. We constantly strive to make it easier for utilities to gain additional value from their data by putting our knowledge into Xtensible Products."

Michael Covarrubias, VP of Strategy and Solutions
About Doble Engineering Company
Doble Engineering Company has been helping clients in the electric power industry improve operations and optimize system performance for over a century with solutions for transformers, bushings, circuit breakers, rotating machines, protective relays, and cables.
About Xtensible
Xtensible, based in the US, is the premier provider of standards-based consulting services to the energy and utilities industry for over two decades. Xtensible leads in the development of Smart Grid world-wide industry standards and has a proven record for helping utilities to implement those standards. For expertise and experience in the areas of regional electricity market solutions, power systems operations, project implementation, enterprise and advanced analytics, system integration, energy services, DER, customer care, grid operations (T&D) and network model management, contact us today to learn how Xtensible can help!