This course provides an opportunity for individuals to receive master-class style training from individuals who have experience implementing the IEC Common Information Model (CIM) standard worldwide. This unique set of sessions provides training and real-world examples of how utilities use IEC CIM.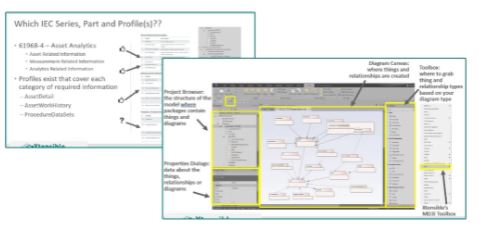 The IEC Common Information Model (CIM), a standard developed by the electric power industry, has been officially adopted by the International Electrotechnical Commission (IEC). It aims to allow data providers and consumers to exchange and store information in a standard manner. IEC CIM was originally focused on the makeup of the electrical network. Over the years, it has expanded to include additional functions such as assets, asset management, work, meters, meter readings, customers and much more. It is a starting point from which a utility can build an information architecture to help define a business vocabulary, otherwise known as "semantics," for its day-to-day operations.
Consider the following:
Does your organization desire an information model that is technology and vendor agnostic that drives data-in-motion (integration) and data-in-rest (structured storage and analytics)?
Is there a desire to foster a data-driven culture, where data is considered an asset?
Does your organization need a consistent, well-defined data fabric that facilitates the reduction of technical debt across the organization?
Newly added to this training in comparison to the previous 2020 training are break-out sessions.  These sessions will be interactive with the objective of attendees leaving with content that they can take back to their respective companies to act upon.
Ask the Experts
Data Linage and Mapping Challenge
Network Model Requirements
Building the Business Use Case
Advance Analytics Approach and Concepts
Network Model Management Requirements
Cost: $695
Agenda
All times are EST (Eastern Standard Time)
December 15, 2021
Welcome
12:00 PM – 12:10 PM
Keynote: Client IEC CIM Case Study
12:10 PM – 12:35 PM
An Introduction to the CIM Standards and Architecture: The CIM as a 'Means to an end'
12:35 PM – 12:55 PM
UML & Enterprise Architecture Basics
12:55 PM – 1:15 PM
Model Walk Through: IEC CIM Service 61968
1:15 PM – 1:35 PM
Model Walk Through: IEC CIM Series 61970 – Network Model Management (NMM)
1:35 PM – 2:00 PM
Break
2:00 PM – 2:20 PM
Semantic Modeling Methodology
2:20 PM – 2:40 PM
Generating a context for Meter Control (real world example)
2:40 PM – 3:00 PM
Generating a context for Asset (real world example)
3:00 PM – 3:20 PM
The Good, The Bad and the Ugly (of the CIM) – Part 1
3:20 PM – 3:40 PM
Day 1 Breakout Sessions
3:40 PM – 4:25 PM

Data Linage and Mapping Challenge
Ask the Experts
December 16, 2021
Opening Session
12:00 PM – 12:10 PM
The Good, The Bad and the Ugly (of the CIM) – Part 2
12:10 PM – 12:30 PM
Making the Business Case for CIM in your Organization
12:30 PM – 12:50 PM
The Role of Business and Enterprise Architecture
12:50 PM – 1:10 PM
Enterprise Information Management (EIM) Relationship with the CIM
1:10 PM – 1:30 PM
Break
1:30 PM – 1:50 PM
Building an Enterprise Data Lake
1:50 PM – 2:10 PM
Analytics Use Case Demonstration: Asset Analytics and Asset Registry
2:10 PM – 2:30 PM
Centralized Network Model Management: Overview and Demonstration
2:30 PM – 2:55 PM
Taking the Next Steps: Building and Implementation Roadmap
2:55 PM  – 3:15 PM
Day 2 Breakout Sessions
3:20 PM – 3:50 PM

Ask the Experts
Building the Business Use Case
Advance Analytics Approach and Concepts
Framework for Network Model Management Requirements

Final Words and Closing
4:00 PM – 4:20 PM