Xtensible will be at DistribuTECH 2022 – Experience the Energy Movement on January 26 – 28, 2022 in Dallas, Texas.  After two years of not having a DistribuTECH we are happy to joining this in-person event.
Come visit us at our booth #407 as we will be showcasing and demoing our new upcoming product Affrima.  Learn about how it can support utilities in: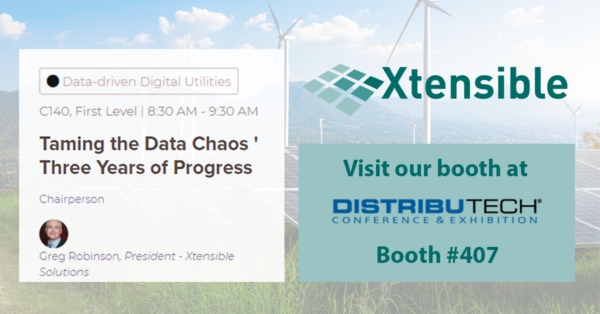 Managing reference data
Enterprise Semantic Modeling
Data Lineage
Data Profiling
Governance
Build Automation
AND More!
Add to your calendar January 28th at 8:30 AM the DistribuTech session "Taming the Data Chaos' Three Years of Progress" where Greg Robinson of Xtensible will be chairing a session with three Xtensible clients from Southern California Edison (SCE), JEA and Exelon.
These same 3 utilities were on a panel 3 years ago, also hosted by Xtensible, talking about their data management plans. They will each share their data management strategies for having congruent enterprise data available for analytics when the data originates from many disparate sources.